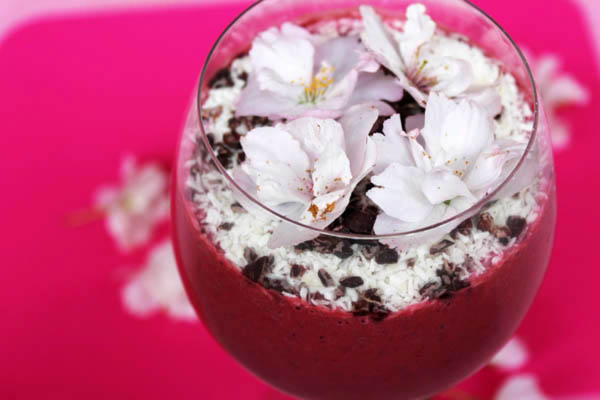 Im a bit late posting this one. Im a bit late with my posting at all this year. I've had a million different things going on and I know thats really no excuse to not put a little bit of time to write and share with you all the delicious recipes Ive been trying and creating.. and there have been many!! I have a back log of stuff to share at this point which I really must put effort in to putting up here on the blog!
Anyway, Im right now in the middle of a personal training course, learning all about the ins and outs of working out and how to use nutrition to best support our exercising efforts and one of the things I came across was a study done on cherries and how they were shown to reduce muscle soreness when consumed as a juice after a workout (specifically in this test after running). Apparently the powerful antioxidants in cherries reduce the inflammation in the muscle leading to a reduce in overall soreness post workout! This reminded me of the cherry smoothie I made back when the big Cherry tree down by the gates in our house was covered in the most beautiful pink flowers during the May sunshine and i was inspired to combine cherry fruits with the visual beauty of the cherry blossom flower. I really think it's my favorite tree and I can see why the Japanese planted them all over their country! the only thing is they just don't last long enough, but then perhaps we wouldn't appreciate them as much if they did? Anyway , Im getting off topic. Back to cherries….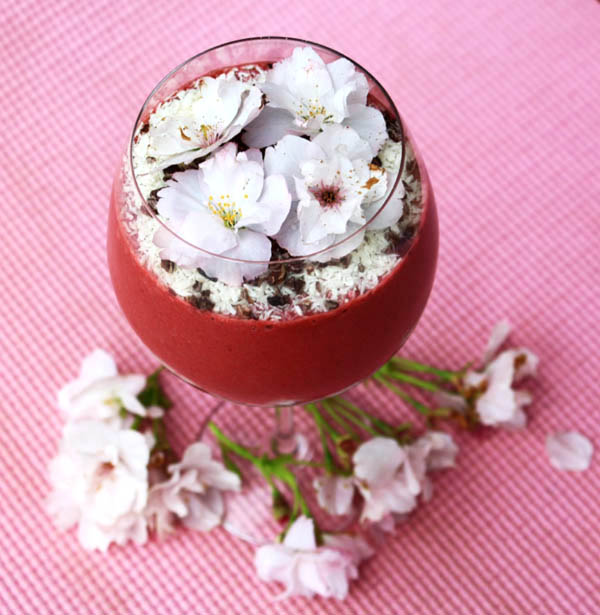 The great thing about these delicious little fruits is not only do they reduce muscle soreness post workout but they also are rich in potassium which helps lower blood pressure, and they are rich in beta carotene and vitamin c which work synergistically to fight cancer!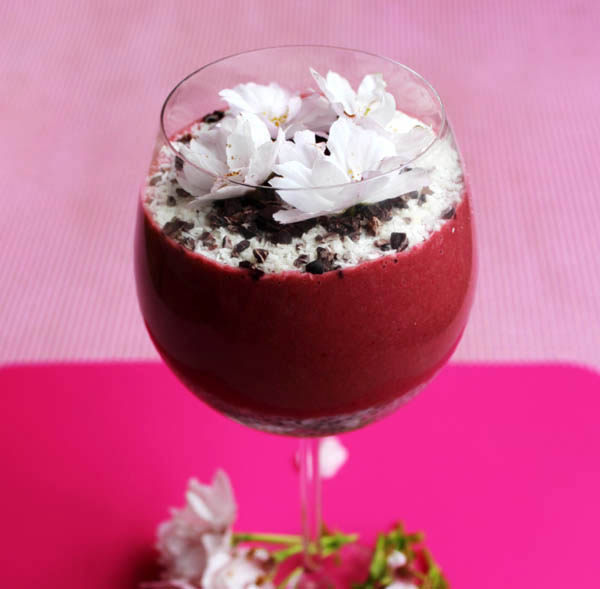 I know i don't even have to tell you all this nutritional stuff to inspire you to try a cherry smoothie because to be honest their flavor alone is enough to make entice anyone, but its always more satisfying to know you're downing something delicious and good for you at the same time!
So without further a due heres my Cherry Blossom Smoothie……..
2 cups of frozen or fresh dark sweet cherries
2 chopped frozen bananas
5-6 cherry blossom flowers
1 cup full fat coconut milk
1 teaspoon vanilla essence
1 cup water
cacao nibs and desiccated coconut and of course gorgeous Cherry Blossoms to garnish! (optional)
Throw everything in a blender and high speed and blend until smooth and creamy! Should be enough to serve 2 if youre not greedy 🙂
Love,