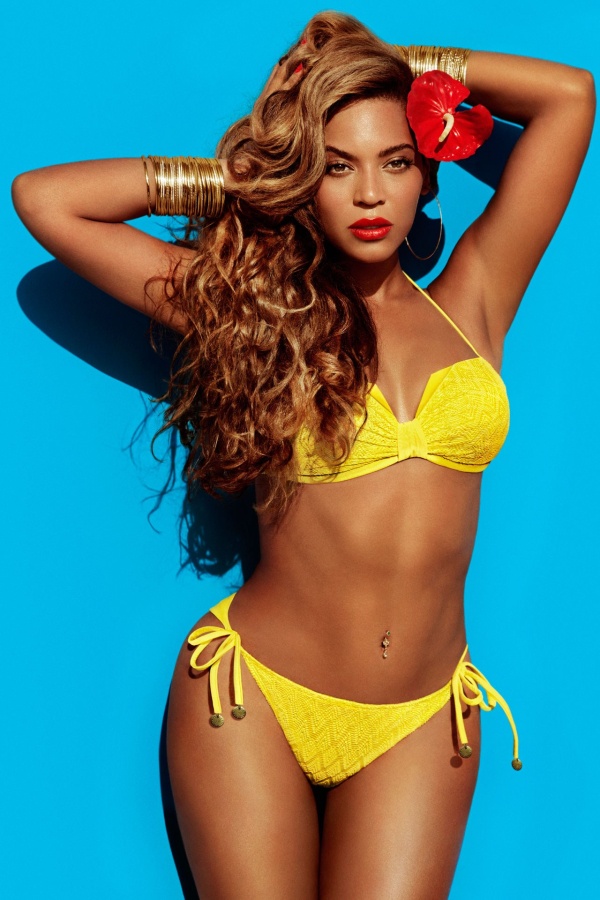 Okay, so I know she may primarily be a singer, but she has done her share of acting too, (Dreamgirls, Obsessed, Austin Powers…)  and when I saw her recent pictures at the Met gala, she looked so beautiful, I wanted to see what Queen Bee was up to lately that had her looking so good (not that she ever doesn't look good, let's be honest!)!
But anyway, although we can tell from this video she posted on her Instagram recently that she is as dedicated to working out as ever, I found her changes have mainly been coming from her diet. I knew she had recently tried the 22 day vegan "diet", and loved it so much she ended up setting up her own vegan food delivery service called "22 days nutrition", but as far as I can tell from various sources she is actually still following the lifestyle as she has found it works for her.
First off, let me say, lovely Beyonce is what we would call in the fitness world an "endomorph" body type (you can find out your body type here) . The females of this type are usually curvy, soft, very womanly shaped and can often find it hard to lose weight or keep weight off even when they are working out and following a good diet. Beyonce has said in the past she struggles with her weight and has yo-yo dieted for years. She famously underwent the master cleanse (lemon water with maple syrup and cayenne) a few years back for the role of Dreamgirls, and while she looked glowing, I have to say that it's really is not meant to be used for shedding pounds and the weight one loses is not sustained. (I do think the master cleanse has its benefits as a detox but not as a weight loss method.)  So I think the reason Beyonce may have taken to the vegan eating so well is because actually it's more of a lifestyle than a diet. There are no calories restrictions, contrary to popular belief vegan foods are and can be extremely delicious and filling, and they are packed with enzymes and nutrients which help the body work optimally.
Beyonce seems to now believe in this way of eating so much that she has written the foreword for Marco Borges new book "22 day revolution" who she claims is the man responsible for having her revolutionise her meat-eating ways…
"What I discovered,' writes Beyonce, 'was increased energy, better sleep, weight-loss, improved digestion, clarity, and an incredibly positive feeling for my actions and the effects it would have on those around me and the environment."
I myself, have been vegan/vegetarian for years and I can attest to feeling the same benefits from this way of eating. Plus it is nice to know you're helping the earth and the environment!
The following is an example of what Beyonce would eat on a day of following a Vegan Lifestyle that I came across on the Daily Mail and I thought I'd share it with you all so that you could possibly give it a go too…
DAY 1
Breakfast: Vanilla chia pudding with 1 cup fresh berries
Lunch: Crunchy red cabbage and green apple sesame slaw with 1 cup steamed, cubed sweet potato (or one small potato, baked)
Afternoon snack: 1/4 cup hemp hummus with fresh vegetables (carrots, celery, romaine leaves, bell pepper, etc.)
Dinner: Black bean and quinoa salad with quick cumin dressing
Dessert: Dark chocolate
DAY 2
Breakfast: Smoothie with 1 cup almond milk, 1 large frozen banana, 1-2 tablespoons almond butter, 1 serving of 22 Days protein powder, and a heaping cup of leafy greens (spinach, chard, kale, etc.)
Lunch: 1 brown rice tortilla (Food For Life brand) or two gluten-free corn tortillas with 1/4 cup hemp hummus, fresh or roasted red bell pepper, sliced cucumbers and a handful of greens. Serve with steamed vegetables as desired, or a small side salad
Afternoon snack: 22 Days bar
Dinner: Zucchini pasta with cherry tomatoes, sweet potato, basil, and hemp 'parmesan'
Dessert: Banana soft serve
DAY 3
Breakfast: Quinoa breakfast porridge with 1 cup fresh berries
Lunch: Large salad with at least three cups of greens, whichever veggies you like, 3 tablespoons pumpkin or hemp seeds, and a dressing of choice (from the dressing options in the recipe index)
Afternoon snack: 4 tablespoons hemp hummus with fresh vegetables (carrots, celery, romaine leaves, bell pepper, etc.)
Dinner: Small baked sweet potato with a tablespoon of melted coconut oil, half a cup of organic black beans, and steamed greens as desired (or a fresh side salad)
Dessert: 2 raw brownie bites
Have you tried a vegan lifestyle or even a day of eating just vegan foods?
If so please share with me your experiences in the comments below!!
Love,