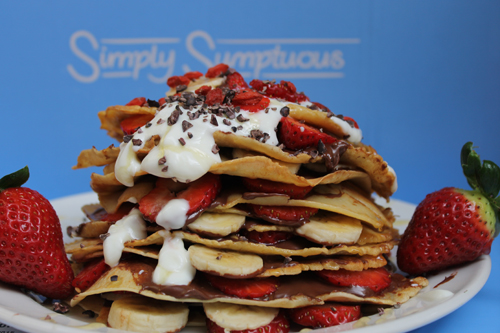 Okay, so Im a day late posting but better late then never right?
I also couldn't hold back on sharing the pancakes I created yesterday as they were undoubtedly one of the best batches of pancake'y goodness I've ever made.
So here they are…. my gluten free pancake tower in honor of pancake (shrove) tuesday! Best invention the bible ever had ! Kidding 🙂
They were really easy to make, I used
3 cups of my gluten free flour mix  (rice, tapioca, potato)
3 organic eggs
2 1/2 cups of coconut milk (or other milk of your choice)
Pinch of salt
All whisked together until there's little bubbles (this will help them turn out fluffy).
Now the secret to perfect pancakes from the moment the first bit of batter hits the pan is to make the pan really really hot, and then you can test it with a small drop of water. If it sizzles and disappears, it is hot enough. Now you must TURN DOWN THE HEAT. To somewhere between low and medium. Wait a minute before adding some coconut oil or butter and add the batter to the pan.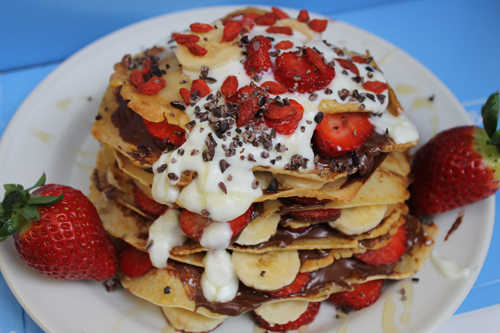 Once your pancakes are made you can layer them with some homemade "nutella" , strawberries, bananas, whatever you desire, and top with fun things like goji berries, cacao nibs, and I used some organic yoghurt drizzled with honey!
Hope you all had a pancake-alicious day!!  😉