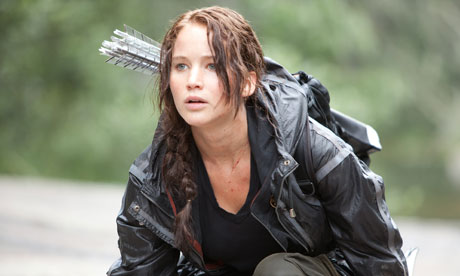 Jennifer Lawrence, the 23 year-old Hollywood beauty is as notoriously famous for her outspoken, 'refusal-to-conform-to-the-Hollywood-mould', 'love-yourself-as-you-are' persona as for her Oscar-winning acting skills, but more than that it's her role as Katniss Everdeen in the hugely popular Hunger Games that has caused her to become somewhat of a role model and idol to young females across the world.
While Jennifer makes it perfectly clear that she does not diet or workout, recently stating to Instyle magazine
                "Nothing Can Motivate Me' To Work Out"
And while it is true that Jennifer is a curvy and healthy looking young girl, and seems to be maintaining a refreshingly grounded view on self image in an industry obsessed with looks, it seems that when it comes to preparing for the role of Katniss, she does have the help of a personal trainer and nutritionist on hand to give an extra boost to her already revving young metabolism, and keep her looking fit and toned for the role.
I have researched as much as possible but it is quite difficult to find the specifics on the low carb diet that she sticks to during training and filming. Perhaps that is because she doesn't really stick to it, as she recently told Instyle magazine in an interview
"During Hunger Games, when I was eating ungodly amounts, I used to tell myself, 'Stop eating, people are going to see this. This movie is going to be around forever.' But nope! I was like, I still want candy and I still want a hot dog!"
And since she is still very young it is possible that she may be able to be more lax with her food intake, but I'm pretty sure that for the most part her diet is healthy and clean and full of all the nutrients she needs to endure training and filming for long hours.
Speaking on her training for the film her strength and conditioning coach Joe Horrigan has said
"We would hit the track around 10 a.m. and after a long warm up we did track drills, agility drills, medicine ball, sprints, and runs. This would last about an hour and half. Several days per week she would drive out to the archery range and the archery coach was waiting for her. That was a chore in itself. Then agility work again with the stunt people, but that was a bit later. We were careful not to have her do too much. Then in the evening, it would be a stationary bike ride."
It seems the aim behind Jennifer's training and diet was to avoid a gaunt look but to create a more strong and resilient looking physique,
"That's something I was really conscious of during training…I was trying to get my body to look fit and strong – not thin and underfed.'
On the subject of her diet her coach as stated
"The calories had to come down. There had to be a cap and we tried to use a food service that could deliver the calorie range that were looking for. And our nutritionist talked to the group and we reduced the saturated fats. She had to have enough carbs to train. If you put her on too low of card diet then she wouldn't have the energy and would affect her ability to perform."
So it seems to me that nothing was too extreme in regards to diet and fitness to achieve Jennifer's physique for The Hunger Games.
Whether Jennifer's lax approach to diet and fitness will continue to serve her as she gets older is yet to be seen but for now a moderately active workout routine and a balanced approached to diet where she doesn't deny herself the foods she loves, is proving to work for her and she looks beautiful, womanly and strong for it. I like that she's bringing a different look to the red carpet and changing the opinion that all young actresses need to be size zero with the perkiest bum and the most sculpted arms to become successful and be considered sexy.
And just like Katniss Everdeen is breaking rules and changing things in the Hunger Games, Jennifer herself seems to be doing just the same in Hollywoodland.