Hi Everyone!
My name is Stephanie Williams. I'm an actress & writer, and I write for a vegan blog called "Vegan, What?" I know you've probably been noticing the increasing amount of celebrities like Pamela Anderson, Lea Michele, and Olivia Wilde,  adopting a vegan way of life, and I'm sure it's got you curious what eating vegan is all about. Well, if you do decide try a vegan lifestyle, and I say lifestyle not diet, because we all know diets never work! Then you absolutely must do your research, and you must be open to change. Being vegan requires change, a beautiful change for your body, but a change you definitely have to get used to. No matter what your reason for diving into the world of veganism is, just make sure you enjoy the journey along the vegan ride.
For me personally, I became a vegan over a year and a half ago. I was tired of how my body felt and I knew I needed a change. I wanted to be more compassionate and kind to my body but I didn't know how or where to start. But, I did remember hearing about  actress Alicia Silverstone's book "The Kind Diet".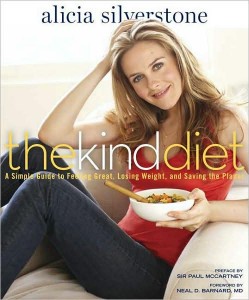 I went online and did a little research and decided that I needed to check this book out. When I received the book in the mail I was excited and nervous at the same time. I wanted to see what new and delicious food I would be trying, but I didn't want to hear about how terrible I was for eating meat.
I proceeded with caution. "I'm just going to be a flirt," I said, which in her book means to just try and incorporate some vegan changes into your life from time to time. No commitment. That's exactly what I wanted, no commitment! I wanted to give it a try but there was no way I was going to give up my In-N-Out cheeseburger. As I continued reading the book I realized that by eating meat and dairy, I wasn't just affecting my health, I was also contributing to the pain and suffering of animals and their children. I continued to research by searching the web and watching documentaries and I was finally faced with the question "Am I going to make a change or not?"
So, I decided to take the plunge.  It was the best decision I ever made. The weight dropped off my body, which definitely doesn't hurt since I'm in the acting biz. It also improved my energy and desire to kick my fitness up another notch. I'm so much stronger and healthier than I've ever been before, my skin is clear, and I couldn't be happier. If you're still not sure, because you think you'll be food deprived, please check out my site. I promise you, vegan cuisine is bountiful and delicious! You will never go hungry and you'll even get to introduce your family and friends to some amazing new meals. Give vegan a try. If you ever have any questions, you can check out my site at veganwhat-stephanie.blogspot.com, or my facebook page at facebook.com/veganwhat. Thanks again to Naomi for letting me invade her page and thanks to you all for allowing me to share a part of my vegan life with you.
Thank you so much Stephanie for sharing your story about embracing a vegan way of living with us!  Many Actresses are adopting a vegan way of life, not just for image reasons but to improve their health and to live a life that is more kind to animals! If you are interested in "flirting" with the idea of being Vegan, or you're already on that path, be sure to head over the Stephanie's blog Vegan,What?! and check out some great recipes! Thanks again Steph!
ELAA APPROVED!